If you're a wedding photographer who has changed your mind about your chosen path in this industry because of the lockdown restrictions and subsequent customer cancellations still in place, you are not the only one. It's never too late for a career change!
It would be surprising if you weren't home for long periods of time and weren't thinking about your current life and work choices, as well as future plans or goals. I think it's safe to say that most of us went through this process in some form.
Some photographers took advantage of this quiet time to change their existing business strategy to prepare for the post-pandemic world, some went out of business and turned to all available job opportunities to support their families, while others, like me, faced the grim realization that this may not be the career we want for our future, even if weddings resume at some point.
The wedding industry follows seasonal changes in bookings that are busy certain times of the year and are booked for most of the full-time wedding photographers in that region, followed by quiet times that have fewer weddings. This makes it difficult to plan personal life events, especially for photographers looking to raise a family or already have children.
It's an emotionally charged job where the photographer has to deal with whatever gets in his way before, during, or after the wedding, and he is forced to maintain a sense of vigilance all year round. It's not just a technical or an artistic job, it's certainly a social and physical one as well. Even so, it can be a very rewarding profession for the right person, but it can just as slowly affect your health and personal life if you are not careful.
If you don't have what it takes to sell your personality to potential clients during a consultation, or if your presence at the wedding makes others uncomfortable, a good portfolio will only get you this long. You are the face of your company and your personality is an important aspect of it.
I think that's one of the reasons wedding photographers like me inadvertently begin to blur the lines between what is considered personal and professional life. Being so emotionally involved in a job can create problems when it comes to solving problems or demands from customers, setting boundaries on communication, or sacrificing your own family life and mental or physical health.
In the pre-pandemic world, I really enjoyed the highs of this business, but I already had an inkling that it wasn't going to be something I dedicated myself to for the decades to come. Physically, I was able to document an all-day wedding with no apparent problems, but as a result I often suffered headaches made worse by the lack of mental breaks during a wedding day. I generally had to keep the day after the wedding free with no appointments or filming because I needed it for free just to recharge. This cycle had the added side effect of compromising my personal relationship: I would lose more time that I could have spent with my partner, either shooting or relaxing.
Lockdown brought this issue to the fore for me and I was forced to grapple with the current situation instead of painting it under the rug and allowing another wedding season that would make me dissatisfied with my job and the tasks I take on . I believe there are moments in our lives when we already know what to do, but we're just looking for that extra boost to make the change that can be daunting because it takes us into uncharted territory.
Personally, what made me more comfortable about my decision to leave the wedding industry was the fact that I'm not the only one feeling this way. Lisa, a British wedding photographer whose real name has been changed to protect her privacy, announced that 2022 will be her final year of weddings. During the pandemic, she found that they are not as profitable for her when broken down into hourly wages, and valued this against the time she has to spend outside of her family, even considering she is one of the most expensive photographers in the area. The cancellations and postponements during the pandemic left her afraid of relying on weddings for a steady source of income, while a shift to family shoots provided the flexibility she was looking for.
Likewise, Fox and Owl photographer Chloé Grayson initially saw wedding photography as her dream career. Until she had her first baby and her priorities and goals were shifted. The long hours she was tasked with photographing weddings across the country contradicted the gentle approach of parenting Grayson and her partner had adopted to their newborn. This was not made easier by the pandemic when it received a spate of postponement and cancellation emails causing financial losses, unpaid administrative time over several months, and mental stress.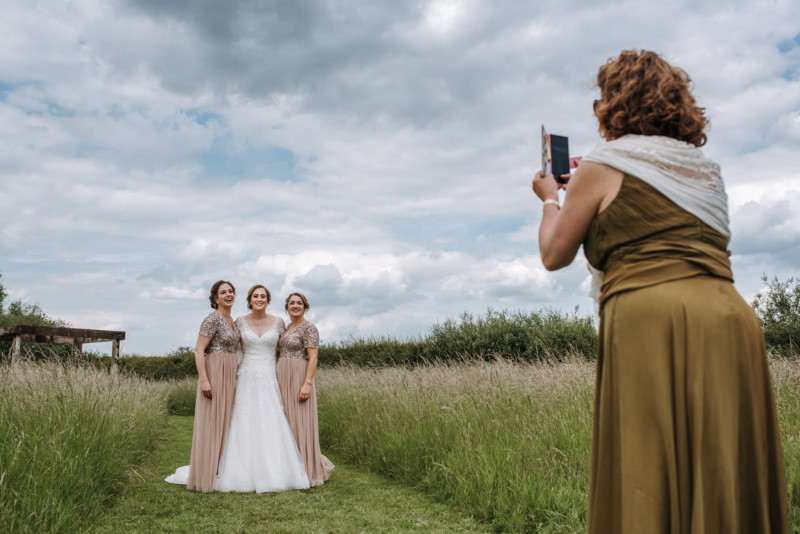 Looking ahead, Grayson is navigating her business in a new direction to focus on design work and smaller meetings or less intense full-time bookings, which works for her as a family-oriented working mom.
Just like in the two examples above, others see their careers in the direction of more frequent, but smaller, shots. Nadine Boyd, also a UK-based photographer, has removed wedding photography from her website as she is reviewing existing bookings and moving on to what brings her greatest joy and job satisfaction: family photography. This type of job doesn't require as much preparation or take up all weekend long, which makes it more manageable, especially for those with younger children at home.
The family aspect of this pandemic-related career change should not be underestimated. Having to plan pregnancy around weddings can be tricky because jobs are booked at least a year in advance. Add pandemic postponements to the mix and you have families waiting at least an additional year or two for a child while committed to completing any bookings whose date had to be postponed due to COVID-19.
The time we have been forced to be at home under lockdown restrictions has given us the opportunity to examine our work-life balance and how we intend to manage this in the future. It's not easy to make major changes in our professional lives, but knowing that there are many in this industry who are just as unsure of whether they are wedding photographers or some other field of photography can be for the rest of us be a consolation.
There are many other reasons photographers are rethinking the future of their wedding business, but the one thing that brings all of these stories together is that this period of ongoing uncertainty has given us clarity about the changes we want to make.
Credit: Photos by Anete Lusina.